Comments Service Features
Lev Walkin posted on May 17, 12:42
Tags:  comments   features 
Today is May 17, almost a year and a half after the first instance of JS-Kit Comments widget
went out
in the wild. The funny thing is, during this time we never had a chance to create a page summing up all the features of our commenting system. If you had an opportunity to add another feature rather than crafting a page describing all the magic you already have, what would be your choice?
To make a long story short, here's a list of features. I can guarantee there's something missing from this list, but at least this is a good starting point.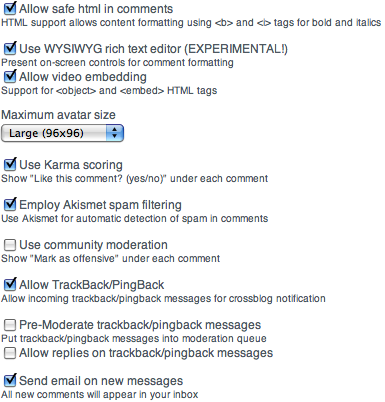 A nice ice breaker for a new JS-Kit Blog too!
Deployment and support
No need to authenticate to leave a comment
Lightweight, script-based integration
Dedicated on-line support
User features
Threaded or flat comments
Comment sorting and ordering by date, name, karma
Native avatars support
Rich Text formatting (HTML and WYSIWYG modes)
Straightforward embedding of YouTube videos
Delete your comments
Receive comments and reply straight to thread via email
Community scoring (Karma), i.e., "Like this comment? [yes] [no]" thing.
Automatic community moderation: "Mark as offensive"
TrackBack and PingBack support
Customization and Administration
Fully customizable with CSS
Customizable fields and layout with templates
Customizable presentation (i.e., full in-line, pagination)
Integrated, object-level 5-Star Ratings (Also available as "Reviews" with greater integration)
Pre-moderation: all comments pre-moderated or only comments from new users
Post-moderation: blocking by multiple IPs, name, etc.
Global (single point) or "inline" moderation
Multi-moderator support for configurable subsections of the site
Obscenity filter (admin-defined)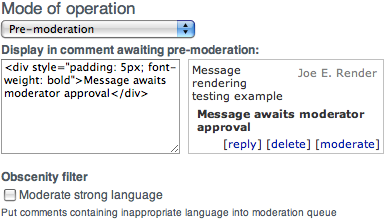 Security, Authentication and Data Access
Automatic SPAM protection via Akismet
OpenID or cookie-based authentication
Publisher control of comment data (RSS, export example)
Ability to switch CMS platforms without losing comments
Safe HTML subset support
Automatic browser detected language support for English, Japanese, French, Spanish, German and a dozen more